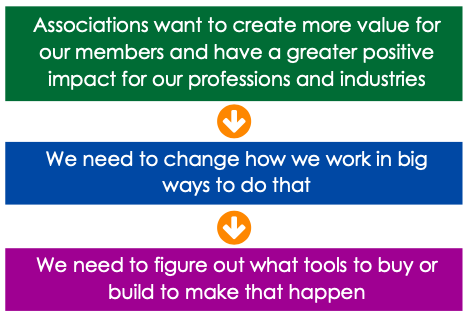 When Maddie Grant and I were researching The No BS Guide to Digital Transformation: How Intentional Culture Change Can Propel Associations Forward, we found all sorts of definitions, depending on the perspective of the definer (marketing, tech, HR, C-suite, etc.). People also tend to define digital transformation too narrowly, as just about the adoption of new technologies and/or as adopting a "digital-first" culture.
The thing is, as my pretty post header graphic reads, the challenge associations face in our digital transformation initiatives is that it's an iterative process that includes both of technologies and culture, and our members. Associations focus on creating more value for our members and for the professions and industries we serve, which means we need to continuously change the way we work, which means we need to be on the lookout for the tools and technologies that will allow us to do that. And the cycle repeats.
Which sounds, if not easy, then at least simple.
So why aren't we doing it?
To discover the answer, download the full whitepaper at https://bit.ly/3y4O6dy, no divulging of information about yourself required.