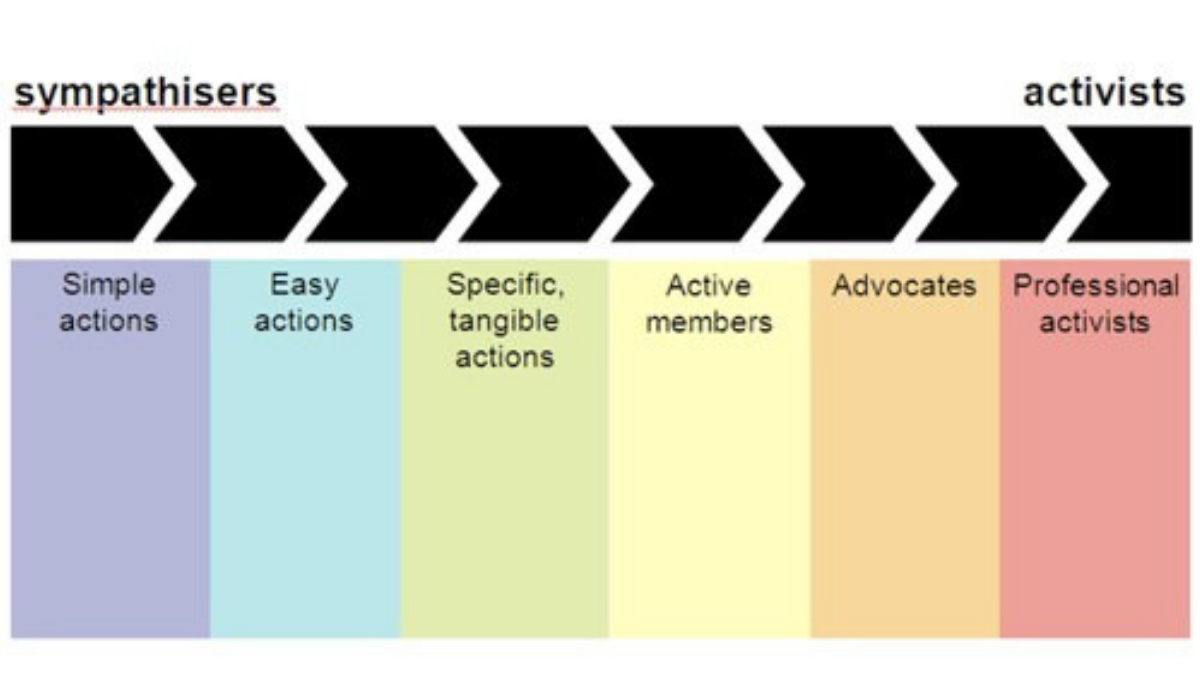 As I discussed in the last post in this series, membership is all about relationship building.
The mechanism you use to build that relationship is the ladder of engagement.
Simply put, just like you wouldn't ask someone to marry you on the first date, so you need to create and deepen your relationship with your prospects (and members) over time before asking them for further commitments.
The first communication someone gets from your association shouldn't be an invitation to join – they don't know you yet, and they have no idea if they're interested in committing a significant amount of money to a full year of relationship.
Membership *is* a relationship, and both parties (the association and the prospective or new member) need to gradually increase cost, commitment, effort, and knowledge. You do that by constructing ladders of engagement, based on engagement paths, that gradually deepen involvement on both sides, until individuals get to the point that they're comfortable making a larger commitment to you, and you know enough about them to ensure that commitment will be meaningful for them and meet their needs.
There are four main steps in the ladder of engagement:
Capture – this is when you get leads in the door in the first place, virtually always by giving them something free but valuable to them that requires a very low level of commitment.
Nurture – this is when a lead turns into a prospect, which happens as you learn more about her and begin offering her programs, products, and services that can help her achieve key goals and solve problems, moving gradually from free to low cost to higher cost.
Convert – this is when you invite the prospect to join, in a way that's tailored to his interests and needs, which you know because you've been learning more about him as you build the relationship through the nurture process.
Partner – this is when that new member becomes a long-term, loyal, committed, involved member through the ongoing process of getting to know her better and offering programs, products, services, and opportunities for involvement that are increasingly tailored to her most important goals and most pressing challenges.
In practice, this might work something like:
Someone registers for a free user account for your career center to look at jobs and post her resume.
That person goes into your prospect database, coded as a prospect and with a "career center" origination code.
A week or two later, the prospect gets an email offering some free editorial content related to professional development, which she clicks on and downloads. That email MUST have a call to action, and you MUST be able to track whether or not the prospect took it.
A few weeks later, the prospect gets another email offering something else free – perhaps a free archived webinar, which she then views (same thing with the call to action and tracking).
Next, she's offered something she needs to pay for, perhaps a paid report or webinar on career development, which she chooses to buy (same thing with the call to action and tracking).
Then you offer her membership, with the offer focused on all the additional professional development-related content she'll have access to if she joins.
Notice that the prospect is only being asked to join (marry you) after you've established that she's actually interested, and she gets a membership offer that's targeted to what *she's* interested in, not something generic that's mostly focused on what the association thinks is valuable.
Ideally, you will create MANY ladders of engagement based around all sorts of segments – source of lead, career stage, professional interests and needs, geographical location, past purchases, demographics, etc. You collect some of this data actively – you ask for it. Some of it you collect passively by observing and recording what people do and grouping them by demonstrated behaviors.
But in all of them, you start with something that's of interest but is free and requires little  commitment to get, often just providing one's contact information. If your lead does that, offer him something that asks a little more of him. It can be money, but it doesn't have to be – maybe you just ask for some demographic information about him, or ask about his interest areas. You continue to do that for a few cycles, THEN ask her to marry you, once you both know it's right.
The fantastic, really simple graphic of the ladder of engagement above is from Beth Kanter. On an unrelated note, you should read her blog and follow her on Twitter if you don't already.