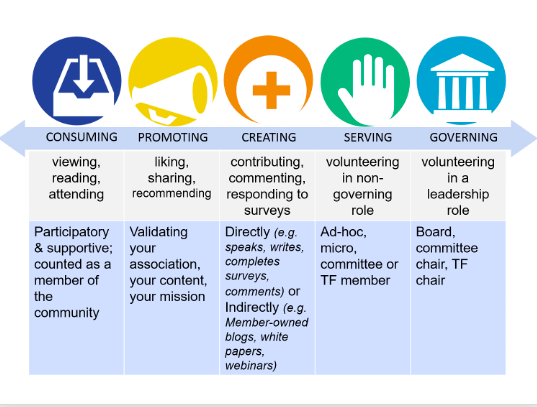 One last question from my brief series on member engagement, inspired by serving on a virtual panel on engagement, organized by Mary Byers, for the Veterinary Medical Association.
Would you rather have a lot of members lightly engaged or fewer members more deeply engaged?
First, I guarantee your association does not have the capacity to support every member being fully engaged with everything the association does or offers. If that happened, you'd have to SUBSTANTIALLY increase your staff.
But this is really the wrong question.
Different members have different ability and willingness to be involved with the association at different points in their personal and professional lives.
To capture and visualize this, Peggy Hoffman (Mariner Management) created the brilliant volunteer engagement continuum pictured above, which spans Consuming, Promoting, Creating, Serving, and Governing.
Her insight is that people move back and forth along it as their needs and availability change. The genius of the continuum model is also that it helps us get away from the more traditional pyramid model where you aspire to be chair of the board of directors, and then if you get there (which most people don't), when you're done, you get, metaphorically, pushed out onto an ice floe.
ISACA, the association for professionals in assurance, governance, risk and information security, provides a great practical example of how to do this: https://engage.isaca.org/volunteeropportunities/howtovolunteer. (Volunteers can even earn spiffy digital badges.)
The point is to meet members where they are, being a solution provider to help them achieve their most important goals, which may include giving back to the profession or industry, and solve their biggest challenges, which may include developing professional skills through volunteering when those opportunities are not available through their jobs.