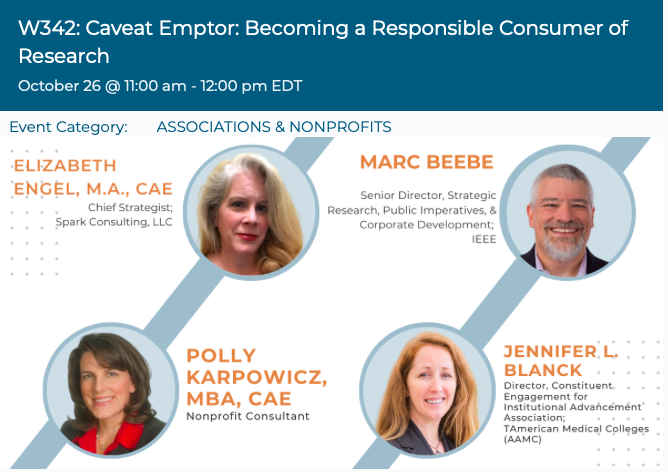 Would you like to learn more about the critical skills you need to be a responsible consumer and sponsor of research? Would you like to hear directly from association execs who are doing good work in their own organizations about how they do it?
Join me and my Caveat Emptor: Becoming a Responsible Consumer of Research co-author Polly Karpowicz on Wednesday, October 26 for a FREE webinar where we'll review the findings of the whitepaper, share a plain-language review of key concepts and approaches in consuming and sponsoring research, and interview Jennifer Blanck (the Association of American Medical Colleges) and Marc Beebe (IEEE) about their stories of association research success.
Learn what you need to know so you don't have to "beware" and can be confident that you're setting yourself, your association, your members and other stakeholders, and the people in the profession or industry your association serves up for success in making data-informed decisions that will allow you to achieve your most important goals and solve your most pressing problems.
(Thanks to host UST Education.)